The Chinese year is about to change, on 4th February 2021 flying star 6 will move to the center starting the year of Ox. Let us see how these changes affect us and how we can use the power of this ancient wisdom to better our lives.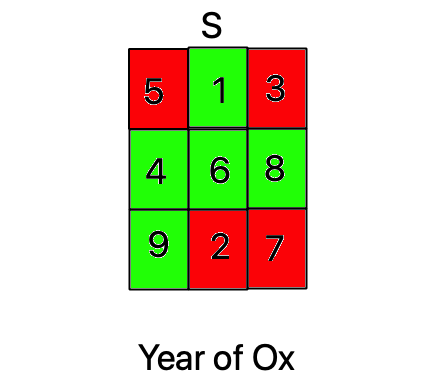 Each year these nine numbers move through space, and with them, they carry their energies. As you can see from the above chart there are four bad stars (2,3,5 and 7) and 5 good stars (1,4,6,8,9).
Center: Heavenly star 6
This year 6 the Heavenly star is in the center, and thus it will play a pivotal role in each aspect of our lives- it is expected that the heavenly star like a just father will be strict if you are naughty and if you are honest will reward you equally. Since this star is in the center it would be wise to:
Keep the area clutter-free
Use white/silver color objects here.
The heavenly star also brings the energy of 'help from others', the heaven luck- the good people in our lives. So if your work depends upon others- like you are in sales, marketing, or you require good luck you should activate the heavenly star by keeping a Quartz crystal ball in the center place of the house
South: Victory Star 1
Victory star 1 is in the south, so if you have your entrance, your bedroom the energy of the victory star will be automatically activated. This is an auspicious star and will bring success in your endeavors. With Covid, if you are working from home, you can shift your working area to the south. Also if you want to activate the star – you can decorate the center using the symbol of victory – for example, a flag.
Southwest: Argument Star 3
Argument star 3 this year flies to the southwest of the house. This star results in arguments, fights, lawsuits, rumors, gossips – hope you got the idea. It is an inauspicious star, and should be avoided. In the southwest of the house, you should keep remedies to control the flying star 3. Fire element helps in overcoming the negative impact of the flying star 3. You can use a red bulb, red candles, red crystal ball to remedy the 3 flying star.
West: Wealth Star 8
The west of the house is occupied by the wealth star 8, in the age of 8, the 8 flying star is good, but in the age of 9 it is going prosperity- so I would not suggest you make this space your bedroom or living room. However, it still represents the wealth star, and to keep wealth coming and staying in your life- activate this star by placing raw citrine crystals, a Citrine crystal ball, a Citrine crystal tree, a gold coin tree, golden ingot, or just simply your wealth box. The idea is to keep things representing wealth in this area.
Please note that good and bad stars also depend on the age, in Age of 8 : 8,9 and 1 are auspicious stars, and 7 is inauspicious. 
As per conventional Feng Shui the age will change in  the year 2024, however, as I shared in a past post, it is possible that we have already shifted to age 9,  making 9,1 and 2 auspicious and 8 inauspicious.
So my suggestion: for major life work use 9 and 1 star - that is use these areas for bedroom and active work- try to spend most of your time in the areas occupied by these stars- in your house flying star chart.
Northwest: Robbery Star 7
The northwest of the house is occupied by the robbery star 7, if you have entrance or safe in this direction – it would be necessary that you put a cure for the 7 flying star. You can put:
A blue elephant
A blue Rhino
Lapis Lazuli crystals in the form of raw crystal, ball or, pyramid
And my favorite a Lapis Lazuli Elephant.
North: Illness star 2
The illness star 2 has moved to the north of the house, if your entrance or bedroom or kitchen is in this area, you need to remedy the presence of 2 flying star. A time tested remedy for the illness star is putting up 6 coins. If possible add in the area brass statue of Mother Kuan Yin (Tara Devi in India Mythology)- the female reincarnate of Buddha- the goddess of healing. Since these are not very good times, you can boost your remedy by putting a crystal bowl of water with few spoons of sea salt.
Northeast: Prosperity Star 9
The fire star 9 is in the northeast sector of the house. It is an auspicious star and spending time in this area will increase prosperity in your lives. To make the best use of its energy you can make this your working area. However, please be cautious as Grand Duke also occupies the NE sector this year, avoid making any loud noise in this area. Since 9 has a fire element, you can use wood from the constructive cycle to activate this area. You can place a wooden windchime, or decorate it with plants.
East: Study Star 4
Study star 4 affects education, knowledge, and even promotions (combined with the flying star 1). The star is in east this year. If you have children of studying age- keeping their study table in this sector will help them perform well in studies. It is also a star of love, so keeping a 'couple` photo will bring love and harmony to your lives. Adding bamboo plants will be great. However, take caution, the area is occupied by three killings as well- so avoid loud noise, major renovations.
Southeast: Obstacle Star 5
Inauspicious obstacle star 5 is in the southeast this year, the star brings misfortune, bad luck, obstacles in work. If you have a bedroom, entrance, or your working area in this sector, you should seriously consider the solutions for the 5 obstacle star:
6- rod metallic wind chime
Energy work with intent, so I have found that for Indian houses putting broze Ganesha (The VighanHarta- destroyer of all obstacles) works great in this area.
And if your pocket allows you can also keep five element pagoda in the area.
Hope you find the article useful
Share it with your friends...
And remember to comment
your comments will keep us motivated…